Artistic Director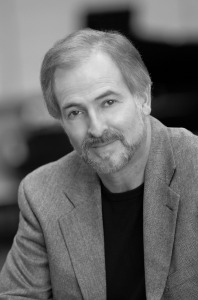 Z. Randall Stroope is one of the most active choral conductors and composers working today, with recent conducting engagements at the American School in Singapore, Canterbury Cathedral, England, Salzburger Dom in Salzburg, Kennedy Center for the Performing Arts in Washington, D.C., Vancouver Symphony (British Columbia), and two performances at the Vatican in the past year. His compositions sell over 200,000 copies a year, and are performed regularly by esteemed ensembles throughout the world, including professional ensembles in France, Holland, Hong Kong, Spain, Japan, Australia, the Czech Republic, and Canada. Dr. Stroope has personally conducted/recorded 13 professional compact discs, and recordings of his music are heard frequently on radio and television broadcasts, including National Public Radio.
Stroope studied conducting at Arizona State University and with Margaret Hillis, Chorus Master of the Chicago Symphony. He is the Director of Choral and Vocal Activities at Oklahoma State University in Stillwater, where he conducts the Concert Chorale and Chamber Choir, and coordinates the undergraduate and graduate choral conducting program at the University. Dr. Stroope is also the Artistic Director of a summer international choral festival in Rome, Italy. Choral groups under his direction have taken 15 international tours, including China, Russia, Japan, Sweden, and South Africa. Dr. Stroope has conducted 33 allstate choirs in the United States.
Dr. Stroope studied composition with Cecil Effinger and Normand Lockwood, both students of Nadia Boulanger (who was a student of Gabriel Faure'). Stroope has published 95 musical works with Alliance Music Publishers, Colla Voce Music, Heritage Music Press, MorningStar, and Walton Music.
Dr. Stroope was born in Albuquerque, New Mexico, and received a Master of Music degree in voice performance from the University of Colorado and a doctorate in choral conducting from Arizona State University. He and his wife, Cheryl – a middle school choral music teacher in Stillwater – enjoy travel and time with their Sheltie.